An Alternative Wedding? – There's a new venue in town!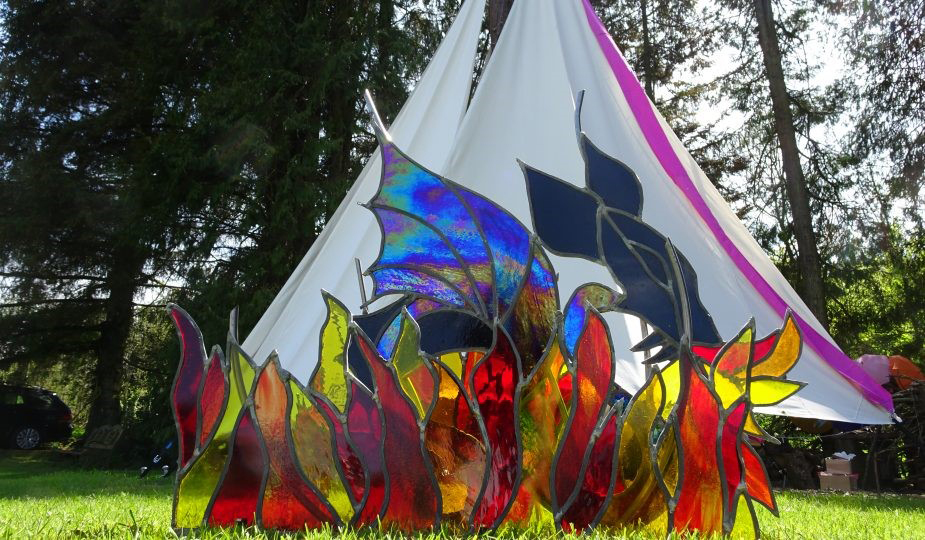 If you want something a bit different for a wedding or vow renewal, there's a new venue right here in Llanwrtyd Wells. The Cwtch Hwtch at Cerdyn Villa offers alternative wedding, elopement & vow renewal packages
There was a lot of excitement and activity at one location in Llanwrtyd on May Bank Holiday Sunday. Not that's not unusual for Llanwrtyd Wells we are known for our activities, usually off-centre, always fun; but in the last year, like most locations, 'fun' and 'activities' have been off the calendar.
Cerdyn Villa reopened its doors with a big launch event having reinvented itself in 2020.
One venue four different styles: An Alternative Elopement, Vow Renewal & Micro-wedding Venue
Its owner, Berni B, trained as an Independent Celebrant want to know what that is? (Follow this link!). She and John then went on to create a magical space in their garden; adding a tree deck, bespoke tepee and glamping pod, in order to offer vow renewal, elopement, and micro–wedding packages to couples of any gender mix, to celebrate and declare their love and unity to each other. In fact, I Bernie is in Mid Wales for all your alternative wedding needs!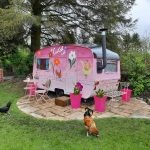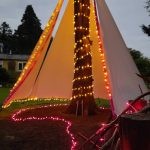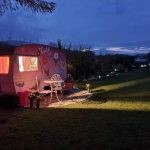 On 30th May 20-30, 2021 micro business owners and sole traders with a finger in the wedding industry, gathered at Cerdyn Villa to create four 'Styled Shoots' to showcase, not just the venue but all their collective services. That day, we made some magic; made new friends and created service business partnerships that will go on to enhance our visitor experience. The day would not have been possible without any of the participants, but here I want to do a big shout out to Pixie Knowles, The Plan-It Pixie who was our event planner and drove the day forward; and Cathy Cooke, of Vintage Florrie, Eco Wedding Styling, for being the day's stylist and Fran Phillips of La Di Dardy Flowers in Crickhowell (if I ever send or use cut flowers I always use a Flowers from the Farm supplier so I know the flowers are homegrown and not flown)
Style 1: Magical May Wonderland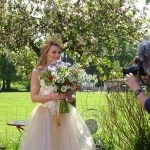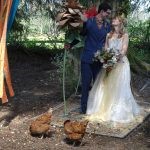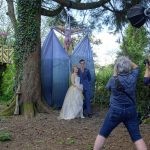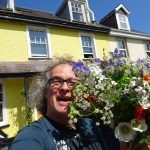 Style Shoot 2: Playful Pink Passion
At the home of Lady Lily the Pink of the Monster Raving Loony Party. it would have been rude not to have a pink theme. Tazmin and Samantha, our models are friends from Llandrindod. Both the pink tartan pantaloon suit and the shocking pink dress were bespoke made for the shoot by Zoe, of Scarlet Tayla Couture. The fabulous button bouquet was made for us by Sally of Buttons Beads Bells and Bows.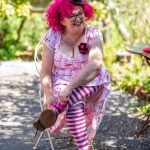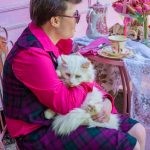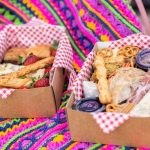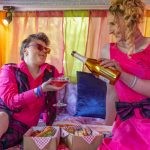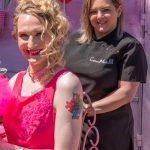 Baroque Inspired Goth:
John designed and built this 3m square tree deck, initially for our grandson (there is a secret entrance hatch in the floor); I wanted it to work as a place for love and unity ceremonies.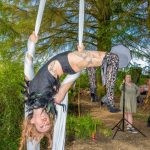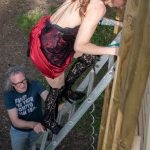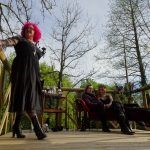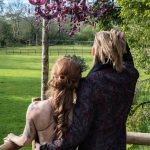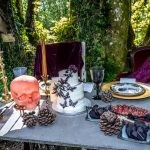 Styled Shoot 4: Bold, Vibrant & ZINGY
This final look was created to showcase the work of a new upcycled fashion label.  Carlie Ann Griffiths lives in Llanwrtyd and has set up Cabbage White Fashion.  'Cabbage' being fabric remnants . She makes one-off items from remnants anSo d upcycled charity shop finds.  The fabulous shoes are by Inanna Bespoke Shoes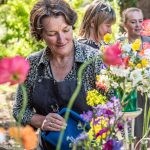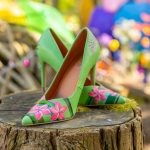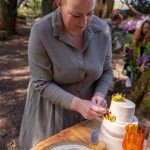 Meet the Photographers: