An ATM is situated in the centre of town close to the Neuadd Arms Hotel; money can be also obtained over the counter at the post office. Click on a shop name below to discover more about it.
Premier Shop, Petrol Station Shop/Post Office
Both shops stock large ranges of groceries, vegetables, newspapers and other items. The post office is situated within the petrol station (still referred to by residents as 'the garage', although the garage is now closed).
W.Cook Supplies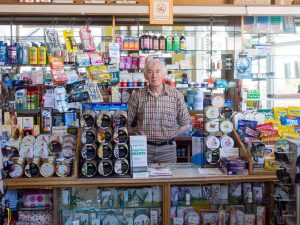 Situated just down the main street from the town centre, this shop, dearly loved by residents, offers a remarkable range of reasonably priced goods: stationery, toiletries, greeting cards, toys, jigsaw puzzles and items unlikely to be found in today's high street chains.
Here you will meet Mr Peter Cook, who arrived as a teenager with his family in 1965 and now owns the shop. In 1965 the shop was primarily a pharmacy but it also served petrol from a pump in front of the shop, tobacco and pipes, fishing tackle, veterinary goods, shot gun cartridges etc.
The shop is well worth a visit, not only to browse for things to purchase but also to learn about its history. Mr Cook loves talking to his customers and, if you have time to spare, a visit is highly recommended.
Mr Cook can be contacted on 01591 610207.
Shades of Green
This shop, located in the main street, is an authentic Victorian shop with a modern twist. It has many original interior features such as tiled floor, oak counters and shelving, tiled fireplaces.
The shop opens from 10 am to 4pm for three days a week from Thursday to Saturday and also on a Sunday during events.
The shop promotes and sells local artists' work including textiles, pottery, soft toys, cards and books etc, also pre-loved clothes, teas and environmentally friendly bamboo products. For the future it has plans to become a community hub promoting Green Events and other businesses in the town.
Katie Pigott, who runs the shop, can be contacted by
Tel: 01591 610388 or 07804 850213
Email: k1pigott@icloud.com
Website pending: www.shadesofgreen.shop
Lorraine's Alterations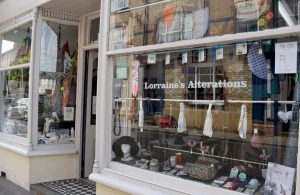 Lorraine's Alterations, situated on the main street, is primarily a garment alteration and repair business but also offers curtain making and limited upholstery services. Lorraine's Alterations actively promotes an eco-sensitive ethos of make do and mend rather than discard and buy new.
In addition to its bespoke sewing services the shop offers a selection of hand-made bags, hats, aprons all of which carry the 'RaineUnique – made in Llanwrtyd' label. All items made in the shop are constructed from reclaimed, upcycled or ethically sourced materials. The shop is also building a collection of remnant/end-of-roll/discontinued line fabrics at bargain prices.
A 10% discount is offered for work wear uniform alterations for members of the Emergency Services and UK Armed Forces.
Lorraine can be contacted on 07562 471843.
Llanwrtyd & District Heritage and Arts Centre
The Centre stocks a range of 'made-in-Wales' goods including soaps, hand cream, jam, honey, candles, pens, tea and chocolate etc., all ideal as gifts to take home.
The Centre can be contacted by:
Tel: 01591 610067
Email: ldhac2016@gmail.com
Website: www.history-arts-wales.org.uk