Llanwrtyd Wells is one of four former Victorian Spa towns in the Heart of Wales to which thousands of visitors came by train for their summer holidays and 'taking the waters'.
When walking around the town you become aware of the many tall houses built in the late 1800s to accommodate such large numbers of visitors. Llanwrtyd once had 35 shops, two golf courses, a bowling green, tennis courts, a swimming pool and even an aeroplane runway – now hard to believe.
By visiting the Heritage and Arts Centre you can learn more about the town's history and listen to people's memories.
Many have expressed their love for their time spent in Llanwrtyd. Former children, evacuated from Czechoslovakia and schooled here during the Second World War, presented the Town Council with the first gold link for a mayoral chain.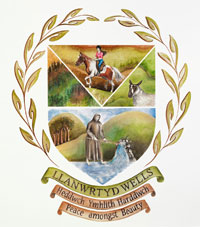 A sculptor from Worcester, who regularly participated in Llanwrtyd biking events, donated the iconic bronze kite statue that dominates the town centre.
Llanwrtyd Wells is blessed with a 'Can Do Community' spirit that keeps the town alive and organises Bog Snorkelling Championships, Man versus Horse Marathon and other events that have brought fame to the town.
Surrounded by areas of outstanding beauty the town provides the perfect base for adventurous walking and cycling.
Whether you choose to holiday with us or come to one of the events your visit will be unforgettable.